New Book on Forensic Document Examination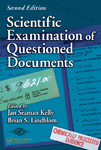 The newest book on the subject of forensic document examination was actually written in the 1950's.
Scientific Examination of Questioned Documents
was originally written by the late Ordway Hilton and published in 1956. A revised version of the book by Mr. Hilton was published in 1982.
This second edition of the book was edited by Jan Seaman Kelly and Brian S. Lindblom. A number of authors, myself included, contributed chapters to the book. This work is to all intents and purposes a new book, but some of Mr. Hilton's work is still there. The book includes chapters discussing:
Forensic document examiner training
The Daubert decision
Identification of handwriting and signatures
Disguise in handwriting
Collection of handwriting samples
Pens and pencils
Paper examinations
Typography
Typewriters
Computer-generated documents
Photocopiers and Fax machines
Manipulated documents
Printing processes
Rubber stamps
Indented Writing
Altered documents
Document Dating
Demonstrative charts
Expert witness testimony
You can't learn how to be a forensic document examiner from reading a book, or even several books on the subject, but this book is a valuable resource for forensic document examiners and attorneys.